To add interest throughout the room, ceiling panels can be attached with special spacers to create a drop down ceiling which could be used in combination with pot lighting giving you a custom light effect.
Custom Metal Decor Ceiling
We will adjust our panels to your project
Each custom size privacy metal panel we create is different as every piece is created to meet your specifications. From the type of material used, to the pattern chosen allowing varying levels of light through, all the way down to the thickness each piece is made to fit your space.
Powder Coating Finishing Options
Each custom size privacy metal panel is powder coated for an extra protection. Powder coating is a finishing process that yields a thick, hard finish that is harder then regular paint. Additional colours are available , please submit custom request.
Custom Panel Mounting Options
We offer different mounting options for custom metal decor panels and metal privacy screens.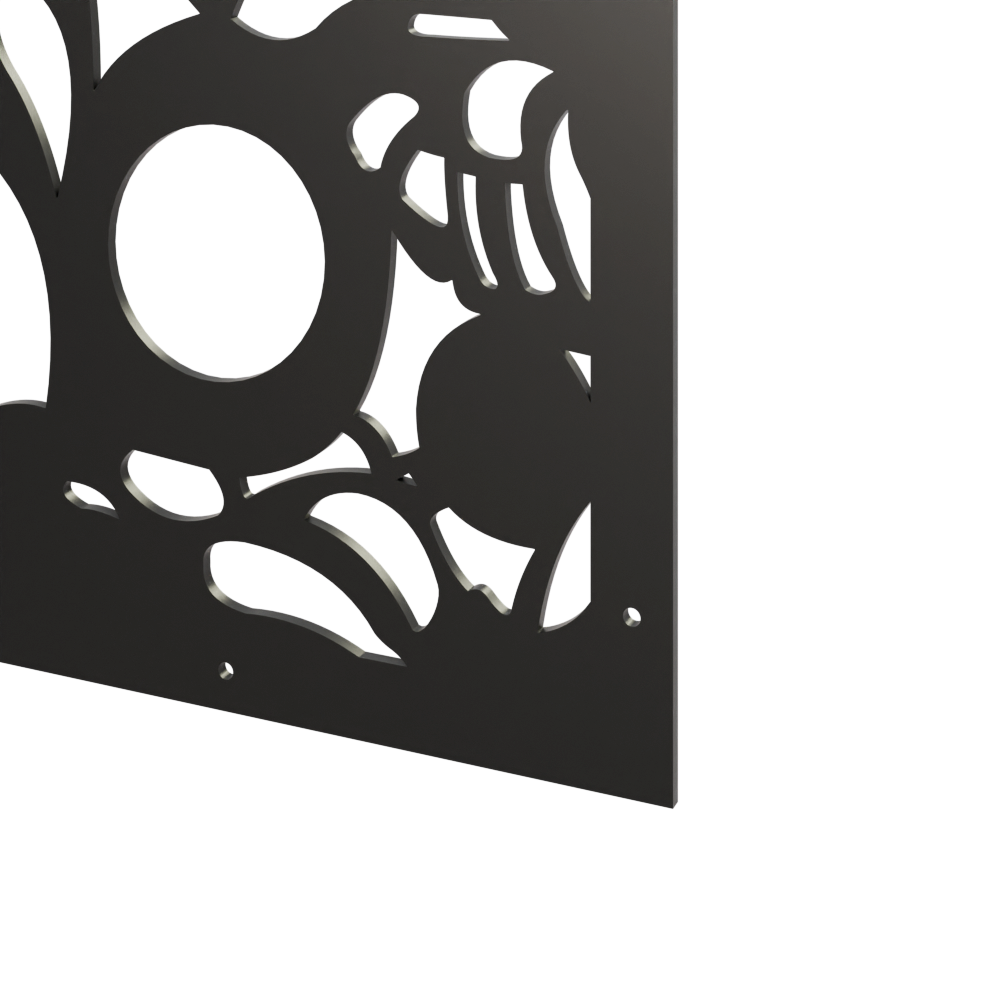 Option 1
Mounting holes around edge of the panel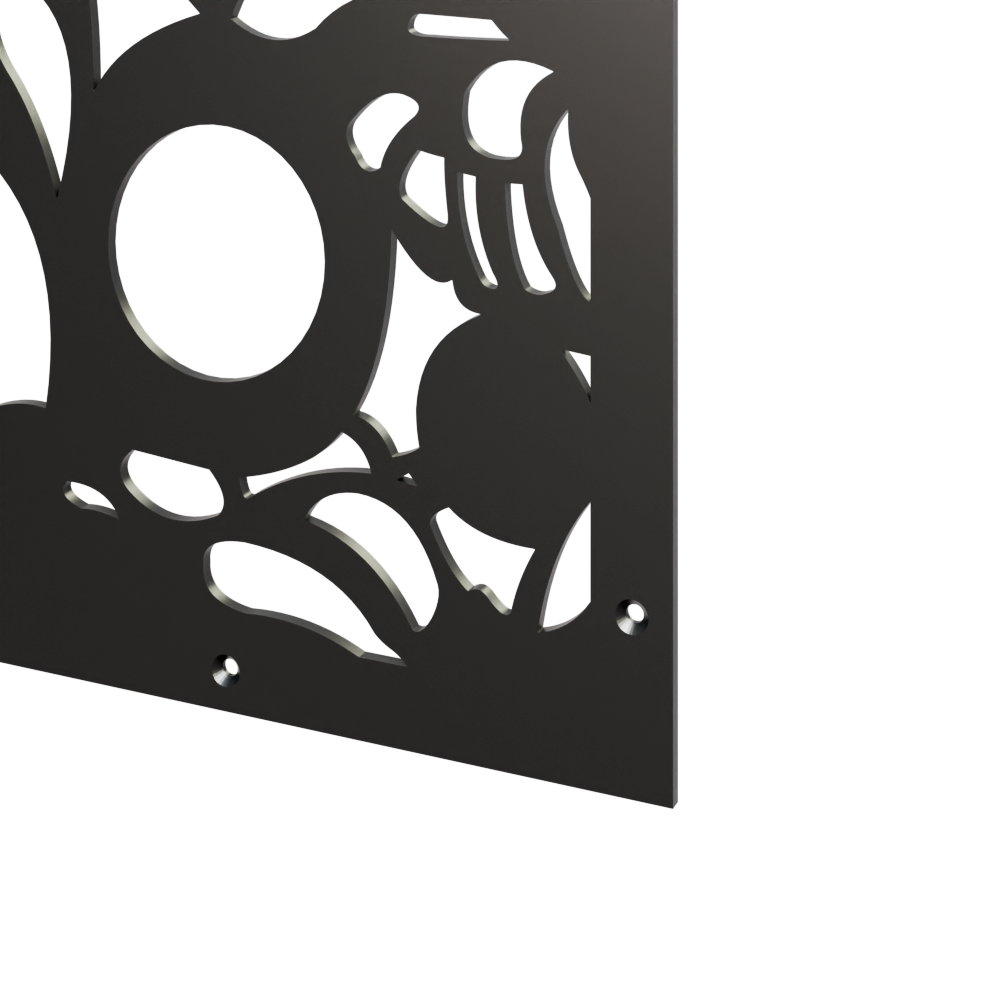 Option 2
Countersunk mounting holes around edge of panel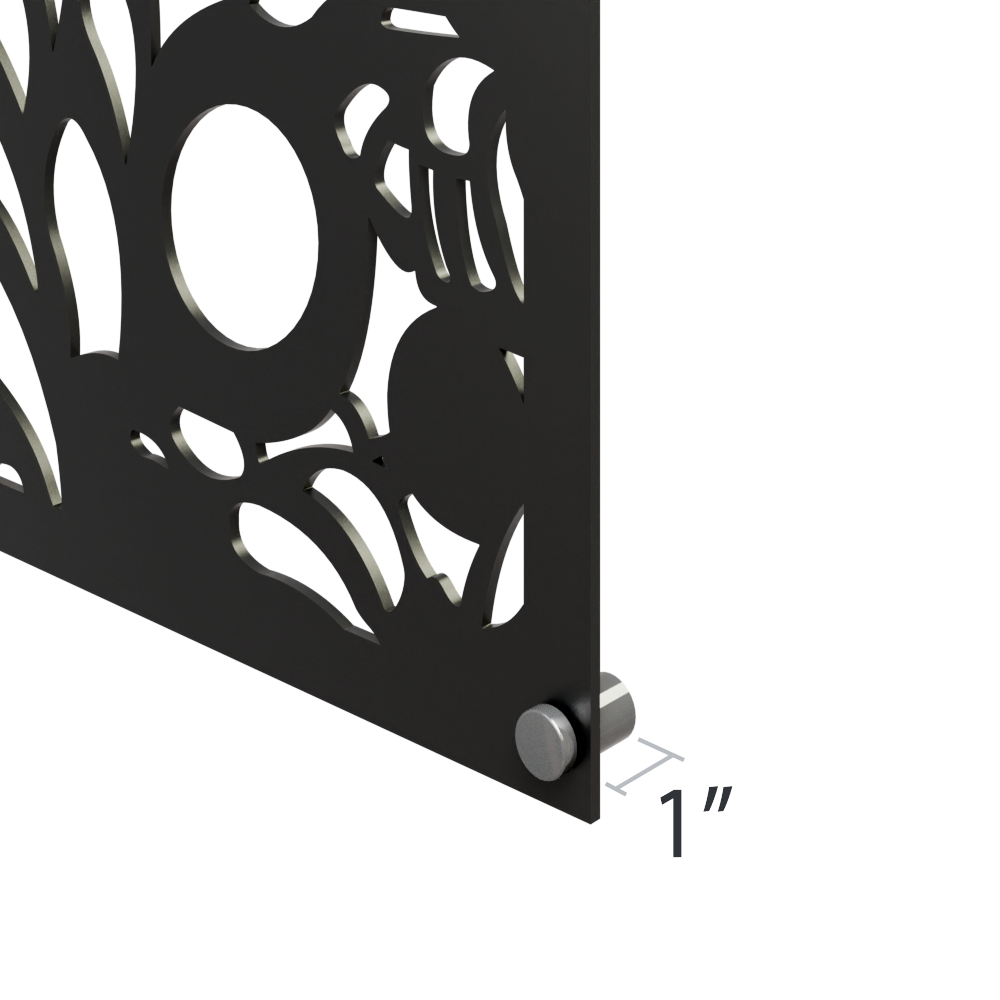 A quick word from our customers
beautiful job done. luv the butterflies. great customer services.
we are very pleased with the panel we purchased, the design fits right in with our new front porch, we've had many positive comments from neighbours and passer-bys. I'm really glad I found your web-site and will mention it to anyone who asks.When we change our side gate I will be looking for another beautiful panel.
karen fernback
2021-10-16
We ordered two privacy panels for a deck and pergola we built in the back yard. I was so happy to find Lasercutarts website. What they can do is amazing and by far the best I was able to find. We love the end result and Sofya was a pleasure to work with. I would happily do business with them again
Brenda Henning
2021-10-15
Very Professional and art work is amazing!! Would highly recommend this business. Fast delivery and it was a pleasure dealing with them!! Would use them again if something comes up for sure.
Great working with Portnoy LaserCutArts. So happy with my fence panel. Highly recommend this company.
I ordered a couple of aluminum decor panels from LaserCutArts to replace the glass insert in my doors with something more appealing. In discussing my requirements with Sofya, she was able to come up with a design that met all my expectations. I felt the timeline and quality of the work they provided was great and would definitely recommend them to others. I am very happy with the end result!
I am so happy with the great work that has been done by LazerCutArts team: Sofia, Stas and their son. They are very professional and working towards customer's needs. They suggested the unique look with the metal decorative panels which defined a space, created privacy and fantastic decorative look on my backyard. I would strongly recommend this company. You will never regret!
We purchased four black anodized decorative panels and mounted them to the front of our house. We love the panels. Laser Cut Arts delivered a top quality product on time. I highly recommend them and plan on using them again for privacy screens in our backyard.
Denis Portnoy (Drd3nis)
2021-02-17
amazing work
Benefits of Laser Cutting Panels Manufacturing
Do you have a question, comment or picture of your new metal art you want to share? We would like to hear from you.
Do you have a question, comment or picture of your new metal art you want to share? We would like to hear from you.